In a report published on Tuesday (23), K33 Research presented disturbing data: Bitcoin trading volume reached its lowest level since 2020.
Excluding the volume coming from Binance, due to a recent zero-fee promotion, the numbers get even worse. However, K33 emphasizes that this would be Bitcoin's "real volume".
Moving on, the study also pointed out that Bitcoin is quite stable. The price is hovering around $27,000 for the fifth week in a row after the bulls failed in a recent rally.
Bitcoin without liquidity worries market
After price, volume is the most important metric that investors look at. After all, it helps to show interest in a certain asset. In the case of Bitcoin, K33 Research points out that the current data is not good.
"Average 7-day trading volumes hit a 2.5-year low, 30-day volatility is at a low not seen since January 1. [contratos] perpetuals, which completely stabilized open interest last week."
In the black, where Binance volume is removed, you will see a large drop in volume from November 2022, the date when the FTX exchange went bankrupt.
Already in the blue, using only Binance data, a large drop in volume is also noticeable after the broker started charging trading fees in March this year.
Bitcoin volatility is also low
While a lack of volume is synonymous with a lack of liquidity, large buys or sells cause sharp moves in the market, but we see the opposite happening.
"Bitcoin Still Trading in the S$27,000 Range for the Fifth Consecutive Tuesday", K33 noted, citing not breaking the resistance. Following this, the analysis firm also notes that this is the lowest level since early January, before BTC started its rally.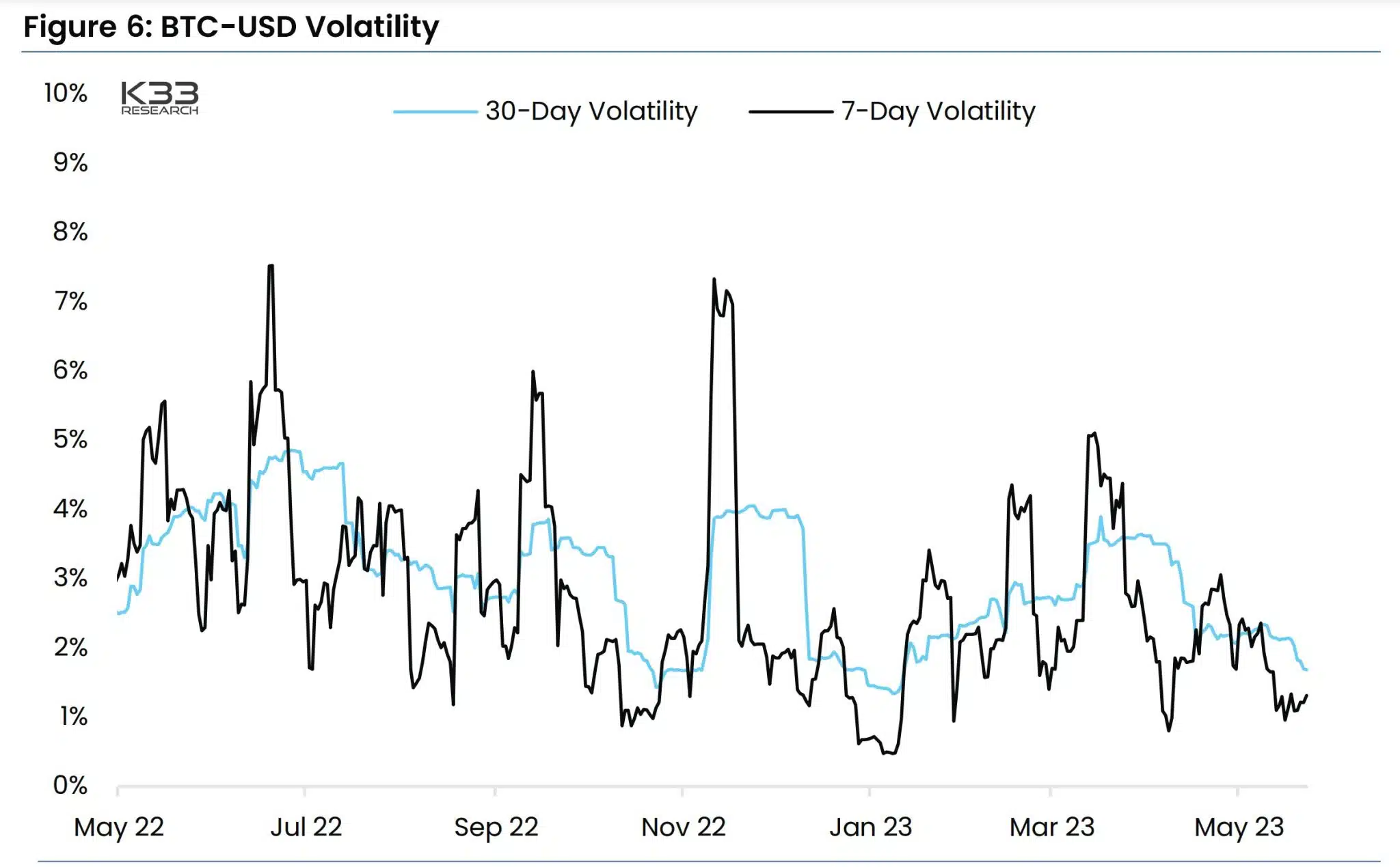 As for the fear and greed index, K33 points out that we are "neutral" again for now. Last month, investors felt "greedy".
This statistic usually has an opposite correlation. That is, while extreme greed may indicate a sales opportunity, extreme fear may indicate times to invest.
Analysis also covered other points related to Bitcoin
Finally, the K33 Research report also analyzed the correlation between Bitcoin and Nasdaq stocks, which also pointed to a drop in this metric, the lowest in the past 17 months.
The contributions of Tether, the company behind the stablecoin USDT, to Bitcoin was also another topic of discussion. According to K33, these purchases would represent 6% of daily BTC issuance, which could double to 12% with the halving in 2024.
The full report, dated May 23, can be found on K33 Research's website.
Source: Live Coins
Barry Siefert is an accomplished journalist and author at The Nation View. He is known for his expertise in the field of cryptocurrency, and has written extensively on the topic. With a background in finance and economics, Barry has a deep understanding of the underlying technology and market forces that drive the crypto industry.